America?s Cutest Pet Contest Launches Today with Free 14K Gold Jewelry to Winner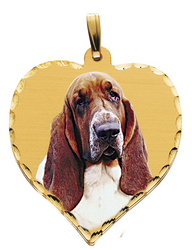 (PRWEB) July 24, 2007
For the millions of viewers of American Idol who enjoyed voting for their favorite singer, PicturesOnGold.com is offering a 14k gold pendant to the winner of its "America's Cutest Pet" contest, which is judged by visitors to the website. Digital photos of dogs, cats, rabbits, even frogs can be uploaded to the site, then all of the voting is done by family, friends and visitors to PicturesOnGold.com to determine America's Cutest Pet.
PicturesOnGold.com is a unique ecommerce website offering laser engraved photo jewelry to customers around the world. PicturesOnGold.com provides a valuable product to a growing niche of customers interested in "making their memories last a lifetime".
"Last month's competition for America's Cutest Kid came down to the very last day of voting. It was really exciting and fun to watch the contestants go back and forth for the lead. I expect our Cutest Pet contest to be another stiff competition."
America's Cutest Pet contest offers anyone with a pet and a digital picture to enter for a chance to win a 14k gold pendant with their choice of picture laser engraved permanently.
"We wanted to do something special for all the pet owners out there, and at the same time give people a fun way to vote online," explains Daniel Schifter of PicturesOnGold.com.
In order to participate one must simply go to the www.PicturesOnGold.com/contest and enter in their information, as well as upload their pet's picture. Once an entry is received online, it is voted on by the PicturesOnGold.com site visitors on a scale of 1 to 5 stars.
The contest runs for exactly 1 month, starting July 22, 2007 and ending August 22, 2007. The picture of the cutest pet with the most votes will receive a 14k laser engraved gold pendant valued at $ 269.99.
For more information on the website and to enter the contest please visit www.PicturesOnGold.com/contest
###