Animal Talk Naturally: Bringing Natural Health for Animals into the 21st Century Through Podcasting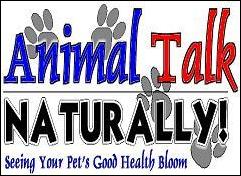 Albuquerque, NM (PRWEB) June 5, 2006
Many who have pets have experienced the frustration of differing attitudes and ideas when facing issues with our pets' physical and behavioral health. Everyone seems to have an opinion of what we should or shouldn't do, and few have the credentials and experience to back their theories and ideas. Many pet owners feel overwhelmed as though there is a dark cloud of information lurking over their beloved pets' welfare. Fortunately, there is a new sun on the pet care horizon.
Animal Talk Naturally is one of the newest internet radio shows to hit the air. The show is hosted by Kim Bloomer and Jeannie Thomason, who have over sixty years of combined experience in the animal health industry. They bring a fresh and honest approach to educating the average pet owner on the pros and cons of raising healthy and well adjusted animals.
"Both Jeannie and I had become frustrated with the misinformation our clients would come to us with," says Bloomer who is the co-author of Whole Health for Happy Dogs. "We knew we had to take a stand and make sure the public got the straight poop to ensure the health of their animals."
"We knew we could either sit back and complain or do something to make a difference," says Thomason who breeds champion Boston Terriers and has over 30 years experience in veterinary care and study.
And stand up they did. Their reputation in the industry has many like minded experts clamoring to be guests on their show. People such as actress, author, model Cynthia Brian, author, artist, musician Ron Hevener or veterinarian Dr. Stephen Blake (The Pet Whisperer), world renown animal accupressurists and authors Amy Snow and Nancy Zidonis, to name only a few.
Thomason and Bloomer aren't afraid to take on the "hot" issues that others avoid. "What's the point?" says Thomason. "It is often the hot issues that can mislead public opinion and the way they care for their animals. If we avoid the hot issues, we are doing our listeners an injustice."
Animal Talk Naturally is streamed daily online at Cool Cast radio (http://www.CoolCastRadio.com), All Pets Radio weekly (http://www.AllPetsRadio.com ) and from the website www.AnimalTalkNaturally.com . Additionally, they welcome the audience to join them when they record their shows at http://www.Holistic-Pet-Audio.com. Never has a radio show given more about animal health to its listeners than Animal Talk Naturally.
# # #