Free Kids Fishing Derby to be Held at Prospect Lake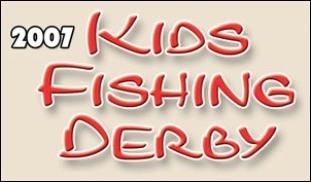 (PRWEB) May 10, 2007
Bigfishtackle.com and the Colorado Springs Wal-Mart are hosting an exciting, fun-filled day of fishing for kids and their families. Community youngsters are invited to come out to Prospect Lake with their fishing poles, tackle boxes and bait and take part in the Colorado Springs Wal-Mart Kids All-American Fishing Derby presented by Zebco from 8:00 am-2:00 pm on June 16th 2007.
Every child fishing at the derby will receive a free goodie bag full of fun stuff provided by the event's local and national sponsors. In addition to free fishing, the day will feature food and beverage and prize drawings.
Youngsters are encouraged to pre-register at www.Coloradosfishing.com but can also register at the derby from 8:00 am. All children must be accompanied by a parent or guardian.
Bigfishtackle.com has a strong commitment to the community's youth and is proud to host a memorable day of fishing for the kids and their families. "Events like this fishing derby can be a great bonding experience for kids and their families," said Gaby San Paolo, derby spokesperson. "The beauty of fishing is that it is an activity that a family can enjoy together for a lifetime," added Gaby San Paolo.
The Colorado Springs fishing derby is sponsored locally by Wal-Mart. Kids All-American Fishing, celebrating its 20th anniversary, is produced on a national level thanks to marquee sponsors Wal-Mart and Zebco along with Castrol, Coppertone, Eagle Claw, FLW Outdoors, Fujifilm and Laker Fishing.
About BigFishTackle.com.

A wholly owned web site property of Predatorial Advertising Associates L.L.C. Founded in 1998 and based in Huntington Beach Cal., BigFishTackle.com is the leading network of niche vertical fishing sites for users and marketers. The network includes more than 95 fishing and outdoor highly targeted web sites and domain names. Each vertical niche provides a comprehensive customer experience including the Internet's best link directories, original content, community features, Daily Fishing Comics and The Outdoor Retailers Showcase for site visitors interested in finding the hottest deals for gear from other on-line retailers. Media Metrix (December 1999) ranks bigfishtackle.com as the largest fishing news, information and entertainment web property in the world. More information on the company can be found on its Web site at www.bigfishtackle.com.
CONTACT:

Gaby San Paolo, CFO

Big Fish Tackle.com / 719-572-9065 Ext 221
# # #