Nation's Largest Nonprofit Pet Adoption Website Reacts to 60 Minutes Obama Interview: Offers to Lead " Transition Team" for the First Dog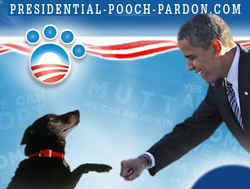 Los Angeles, CA (PRWEB) November 17, 2008
Adopt-a-Pet.com, the nation's largest non-profit pet adoption website reacted immediately to the November 16 CBS 60 Minutes interview with President-Elect Barack and future First Lady Michelle Obama by offering to lead a "Special Transition Team" for the dog the Obamas plan on bringing into the White House in the early spring.
"Representing the 6,500 animal shelters and humane societies who post pets for adoption on our site, we are uniquely positioned to help find the Obamas the perfect family dog, and help them integrate that dog into a new home," said Adopt-a-Pet.com President, David Meyer.
Choosing a dog with the proper temperament for a family with young children, as well as a dog that is hypoallergenic to meet the needs of the President-Elect's daughter is key to having a successful family relationship with a pet, experts say.
"We applaud Michelle Obama for her comments on 60 Minutes that as responsible pet owners, she and Barack Obama think they should wait until they are settled into the White House and don't think it would be 'good to get a dog in the midst of transition'," said Meyer. "It is best to bring a new dog into a stable home with dependable routines. This is less stressful for the dog and for the people involved, and helps insure a great start to a life-long relationship. Using our website, we can help the first family see photos and descriptions of pets at animal shelters all around the country, and then we can help them hand's on with steps necessary to successfully bring the new First Dog into the White House."
Adopt A Pet is also spearheading a national campaign and website called "PresidentialPoochPardon.com" to impress upon the Obamas the support of their adopting a dog or adopting a puppy from an animal shelter, humane society, SPCA or pet rescue group. Using a Barack Obama-themed campaign website and messages such as "Yes We Can ADOPT", animal shelters around the country have gathered signatures for a letter to be delivered to the White House in support of the President-Elect adopting a shelter puppy. The website has gathered nearly 12,000 signatures in just its first three days.
Adopt-a-Pet.com is the world's largest nonprofit pet adoption web service, helping over 6,500 animal shelters and pet rescue organizations find homes for pets by displaying photos and descriptions of adoptable pets to over 1.5 million people a month seeking to adopt a dog or adopt a cat.
###