North Carolina Sportsman Launches Trail-Cam Contest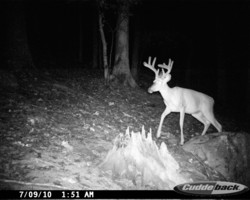 Greensboro, NC (PRWEB) September 15, 2010
Trail cameras have become standard for hunters, providing great scouting tools and increasing excitement as the photos are reviewed. Now those photos could win you another camera to add to your arsenal by simply posting them on North Carolina Sportsman's 2010 Trail Cam Contest.
"Every hunter loves to share trail-cam photos, and we just thought it was a great opportunity to give our users a bonus for doing what they enjoy," NorthCarolinaSportsman's Andy Crawford said.
Entering is easy: Simply log onto the site, and click on the contest banner. Upload your photos, and you're entered.
There's only one catch: You must be a registered user of the site to be eligible.
One of the photos entered each month will be named a winner, with the user receiving an Official Sportsman Gear prize pack and a one-year South Carolina magazine subscription.
Monthly contests periods are:


Sept. 1-30
Oct. 1-31
Nov. 1-30
Dec. 1-Jan. 1
At the end of the season, the five monthly winners will be eligible for the grand prize of the contest.
"We'll allow our users to choose the grand prize winner through a one-week voting session," Crawford explained.
A grand-prize winner will be announced at the end of that voting session.
"This is just a great opportunity to share your deer hunting with others and see some fantastic deer that might not ever be killed," Crawford said. "So log on today and upload your photos."
Registering on NorthCarolinaSportsman.com is quick and easy: Just log onto the site, click "Reports" in the upper nav menu, and then click on "Register" near the upper left-hand corner of the page beneath the magazine cover.
Choose a login name and password, and you'll be taken to another section in which you will enter your alias, email address and a little about yourself.
Once all information is filled out, you'll receive a confirmation email that you will allow you complete the registration process.
If you have any questions, contact Andy Crawford at [email protected]
North Carolina Sportsman is the premier outdoors hunting and fishing magazine for North Carolina, and NorthCarolinaSportsman.com is the same great source of hunting and fishing news and articles online. Visit our website for the latest hunting and fishing news, helpful articles, free classifieds, and an active community.
###