Photo Contest Gives Pet Owners Chance to Win a Free iPad and Their Place in App History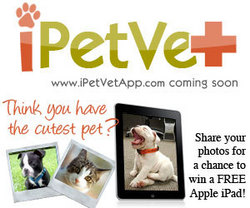 Edmond, OK (PRWEB) April 22, 2010
In advance of the official launch of the iPetVet iPhone app, iPetVet is looking for the next top pet to feature as the cover pet in the app design. Participants are invited to upload photographs of their favorite pets through a simple user generated online interface. The winner will be determined by public vote ending May 19, 2010. Pet owners have until May 3, 2010 to submit their entry.
As iPetVet app prepares for launch, owner Wes Williams said, "iPetVet will be a critical resource for pet owners to better understand the needs of their pets and keep track of vital pet information. It seems perfect to involve pet owners in our search for the iPetVet cover pet."
"We're thrilled to give pet owners the opportunity to put a spotlight on their pets. We're even more excited to give back with the chance to win an iPad," said Williams. "From Yorkie's to Retrievers and cats in between, we're seeing pets of all shapes and sizes. We're excited to see who the public picks as the winner."
Once submitting their photographs, pet owners can encourage their friends to vote for their entry. "We wanted to make it simple to submit and simple to gain votes encouraging participants to share the joys of their precious pets," said Williams.
The winner as determined by public vote will receive a free Apple iPad valued at $ 499. The winning pet photo will be incorporated into the app design.
Participants can enter photographs and vote on their favorites at http://www.iPetVetApp.com. Contest rules and description can be found at http://www.iPetVetApp.com.
About iPetVet

The iPetVet iPhone application will launch in early summer 2010 with a companion website as the premier resource for pet owners. With comprehensive pet care information, symptom checker and petdata tracking the app will be a must have for pet owners. iPetVet is based in Oklahoma City, OK, and owned by Wes Williams of All-in-One.
###