R2 Solutions Launches the Worlds First Complete Pet Fish Training Kit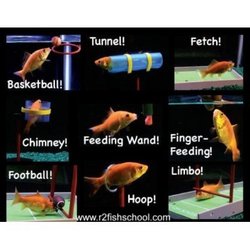 Los Angeles, CA (PRWEB) April 23, 2008
R2 Solutions announces the product release of the R2 Fish School Kit, the world's first complete pet fish training system. Each kit includes an extensive collection of fish training tools, as well as an illustrated manual and DVD that provide step-by-step instructions.
The R2 Solutions development team and noted fish-training expert, Dr. Dean Pomerleau, collaborated to create the R2 Fish School Kit. Dr. Pomerleau decided he wanted to make fish ownership more interactive and fun for his kids. His work focused on using marine mammal training techniques to teach his common goldfish. One of Dr. Pomerleau's fish, named "Albert Einstein", turned out to be a pretty good student. Albert is recognized in the Guinness Book of Records as the fish with the largest repertoire of tricks.
"With the correct tools and the basic promise of a food reward, fish can very quickly learn complex tricks – like the limbo, slalom or playing fetch. Now people in the market for a dog might want to consider a fish instead," Dr. Pomerleau said.
Dr. Pomerleau and the R2 Solutions development team spent the last year testing and developing the ideal tools for fish training. Dr. Pomerleau and his son Kyle host the DVD, which stars "Comet", a common goldfish showing off all his advanced fish trick skills. "When people see the tricks, after the initial disbelief, they want to learn how its done and teach their own fish too," R2 Solutions President Russ Ronat said. "Not only is this product fun, but it also has great educational value."
The R2 Fish School Kit is now available at Amazon.com and other pet supply retailers. You can also see "Comet" shooting hoops, kicking field goals, playing fetch and more at www.r2fishschool.com.
About R2 Solutions

R2 Solutions is a Los Angeles, CA-based company specializing in the manufacturing and development of unique, innovative pet products. R2 Solutions' current products include the popular R2 Aquarium Moonlights, a complete line of moonlights for aquariums of all sizes.
###